Stay Ahead of the Game: The Top 5 Web Development Trends Your Business Needs to Know
---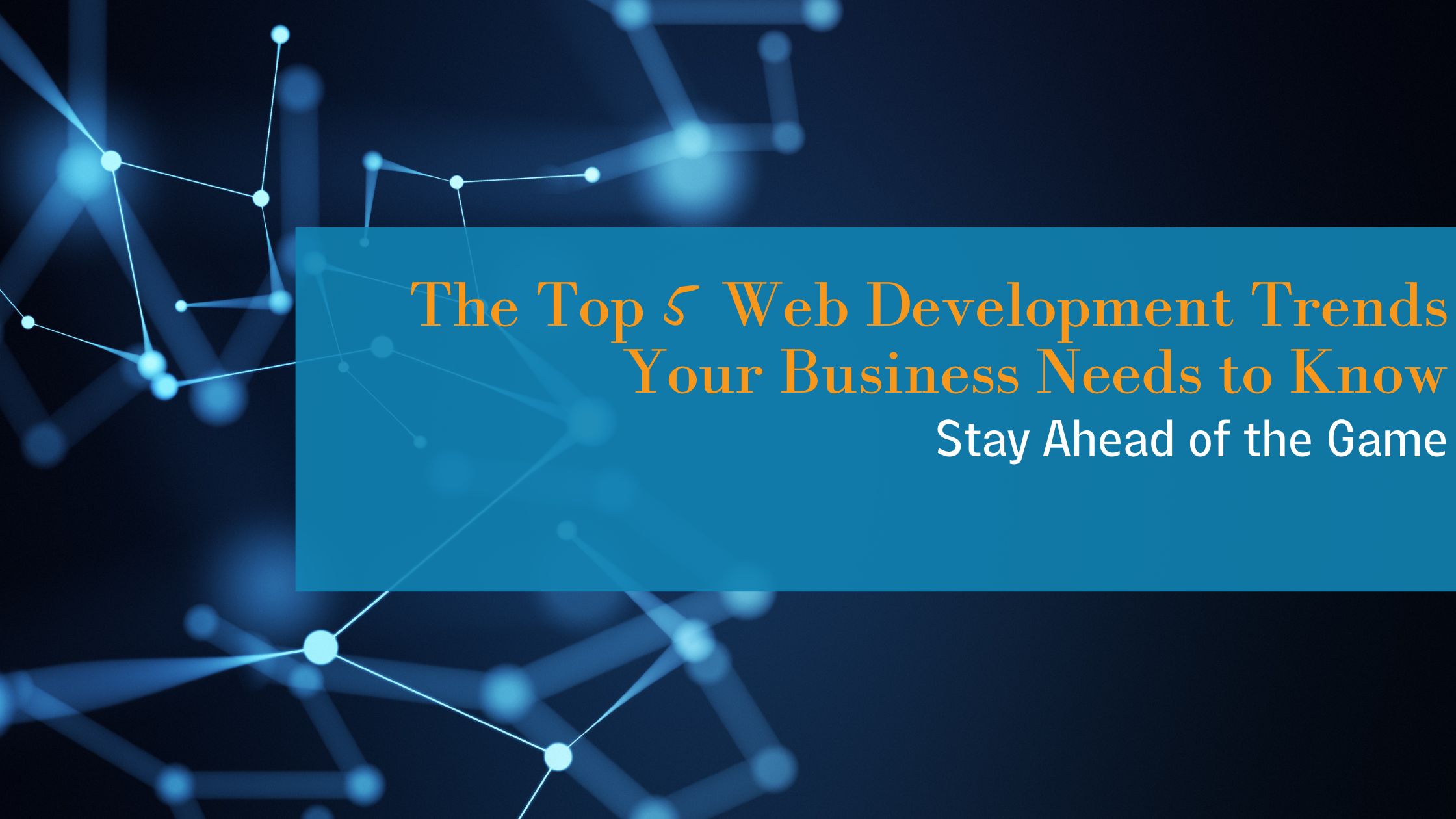 Technology continues to evolve at a rapid pace, it's important for web developers to stay up-to-date on the latest trends and innovations in the field. In this blog post, we'll explore some of the top trends in web development that are shaping the future of the industry.
Artificial intelligence and machine learning
One of the most exciting trends in web development is the integration of artificial intelligence (AI) and machine learning (ML).
These technologies allow websites to learn and adapt to user behavior, providing a more personalized and intuitive experience.
For example, AI and ML can be used to create personalized product recommendations based on a user's browsing history, or to provide real-time language translation on multi-lingual websites.
Progressive web apps (PWAs)
Progressive web apps (PWAs) are a new type of web application that combines the best features of native mobile apps and traditional websites.
They are designed to be fast, reliable, and engaging, with the ability to work offline and be installed on the user's home screen.
PWAs are especially useful for businesses that want to provide a seamless experience across devices and platforms, as they can be accessed from any device with a web browser.
Single-page applications (SPAs)
Single-page applications (SPAs) are web applications that load a single HTML page and dynamically update the page as the user interacts with the app. This allows for a faster and more seamless experience, as the user doesn't have to wait for the page to refresh each time they take an action.
SPAs are becoming increasingly popular for web-based applications and can be used in combination with technologies like AJAX and React to create a smooth and responsive user experience.
Cybersecurity and data protection
The number of cyber attacks continues to rise, and the importance of cybersecurity and data protection in web development cannot be overstated. Developers must ensure that websites and applications are secure and compliant with data protection regulations, such as the EU's General Data Protection Regulation (GDPR).
This includes implementing secure authentication and authorization protocols, as well as regularly testing and updating the website to address any vulnerabilities.
Voice and gesture-based interfaces
As more people use voice assistants like Amazon's Alexa and Google Home, and devices like the Kinect and Leap Motion, the demand for voice and gesture-based interfaces in web development is increasing. These types of interfaces allow users to interact with websites and applications using natural language commands and hand gestures.
As a business owner, it's important to ensure that your website is designed and built with the latest technologies in mind. By optimizing for voice and gesture-based interfaces, your website can provide a seamless and intuitive user experience for your customers.
Conclusion:

The future of web development is exciting and full of opportunity, as new technologies and trends continue to emerge. By staying up-to-date on the latest innovations and best practices, web developers can create websites and applications that are fast, secure, and engaging for users. So, these are the top trends in web development that developers should watch out for in the coming years.
As a business owner, it's important to have a professional online presence that accurately represents your brand and effectively communicates your message to your audience. One of the key decisions you'll make when building a website is whether to go with a custom website or a pre-designed template. While templates can be an affordable and quick option, they often come with limitations and may not fully represent the unique personality and branding of your business.
In this blog post, we'll explore the benefits of choosing a custom website over a template and explain why a custom website can be a game-changer for your business.
#1 Custom Websites Allow for Complete Design Freedom:
One of the major advantages of a custom website is the ability to create a unique layout and user experience that effectively communicates your brand and message to your audience. With a custom website, you have the freedom to design every aspect of the site, from the color scheme and typography to the layout and navigation. This allows you to create a website that truly represents your business and stands out from the competition.
On the other hand, with a template, you're limited to the design and functionality that's already built into the template. This can make it difficult to accurately represent your brand and create a truly unique user experience.
#2 Custom Websites Help You Stand Out from the Competition:
In a crowded market, it's important to differentiate your business and make a lasting impression on your visitors. With a custom website, you can create a unique and memorable user experience that sets you apart from your competitors.
On the other hand, with a template, it's likely that other businesses in your industry are using the same design, making it harder for you to stand out. A custom website allows you to differentiate your business and make a stronger impact on your visitors.
#3 Custom Websites Offer Greater Flexibility and Scalability:
As your business grows and evolves, you may need to make changes to your website to keep up with your changing needs. With a custom website, it's easier to make these updates and add new features as needed. This flexibility and scalability can be especially important for businesses that are rapidly growing and need to continually update their website to meet the needs of their audience.
On the other hand, with a template, you may be limited in the changes you can make and may need to start from scratch if you want to significantly alter the design or functionality of your website.
#4 Custom Websites Can Improve Your Search Engine Rankings:
The role of search engine optimization (SEO) in driving organic traffic to your website cannot be overstated. A well-designed custom website can be built with SEO best practices in mind, making it easier for your business to rank higher in search results and attract more targeted traffic.
This point may shock you, but the fact is that a custom website can significantly improve your search engine rankings and drive more targeted traffic to your business. On the other hand, with a template, you may be limited in your ability to optimize your website for SEO, resulting in lower search engine rankings and less organic traffic.
#5 Custom Websites Provide a Better User Experience:
By designing a website that is tailored to the specific needs of your target audience, you can create a more intuitive and enjoyable experience for your visitors. This can lead to increased engagement, conversions, and ultimately, business growth.
On the other hand, with a template, you may not have the ability to fully customize the user experience to meet the needs of your specific audience. This can result in a less enjoyable and less effective user experience, ultimately leading to lower engagement and conversions.
Conclusion:
In conclusion, a custom website is a worthwhile investment for any business looking to establish a professional and effective online presence. While it may require more time and resources upfront, the long-term benefits of having a unique and fully-customized website are well worth it.
From complete design freedom and the ability to stand out from the competition to greater flexibility and scalability, improved search engine rankings, and a better user experience, a custom website can be a game-changer for your business. Don't be afraid to invest in a custom website to take your online presence to the next level.
Here are some potential items that you might consider including on a checklist for auditing a website:
1. Content:
Is the content on the website accurate and up-to-date?
Is the content organized in a logical and intuitive way?
Is the content easy to read and understand?
Is the content free of spelling and grammar errors?
Need help with content creation? Contact us!
2. Design:
Is the website visually appealing and easy on the eyes?
Is the website responsive and mobile-friendly?
Is the website easy to navigate and use?
Are all page elements (e.g., images, videos, etc.) properly formatted and displayed?
Need help with web design? Contact us!
3. Functionality:
Do all links on the website work as expected?
Do all forms on the website work as expected?
Is the website free of any broken or outdated functionality?
Is a link broken or do people say that they can't find elements on your website? Contact us!
Performance:
Is the website loading quickly and efficiently?
Is the website optimized for search engines (SEO)?
Is the website secure (e.g., using HTTPS)?
Want a free website audit? Contact us!
4. Accessibility:
Is the website accessible to users with disabilities (e.g., screen readers)?
Is the website compliant with relevant accessibility standards (e.g., WCAG)?
Did you know this is a legal requirement? Contact us!
This is just a general list of potential items to include on a website audit checklist. Depending on your specific needs and goals, you may want to add or remove items from this list as needed.
Video / WordPress / JavaScript / PHP / SASS
Video / WordPress / JavaScript / PHP / SASS
Video / WordPress / JavaScript / PHP / SASS
Video / WordPress / JavaScript / PHP / SASS
WordPress / JavaScript / PHP / SASS / Bootstrap
Video / WordPress / JavaScript / PHP / SASS
WordPress / JavaScript / PHP / SASS
Video /Wordpress / JavaScript / PHP / SASS
WordPress / JavaScript / PHP / SASS
Video / WordPress / JavaScript / PHP / SASS
WordPress / JavaScript / PHP / SASS
Video / WordPress / JavaScript / PHP / SASS
WordPress / JavaScript / PHP / SASS / Bootstrap
Video / WordPress / JavaScript / PHP / SASS
WordPress / JavaScript / PHP / SASS
WordPress / JavaScript / PHP / SASS
WordPress / JavaScript / PHP / SASS
WordPress / JavaScript / PHP / SASS / Bootstrap
WordPress / JavaScript / PHP / SASS / Bootstrap
WordPress / CSS Header Animation / JavaScript / PHP / SASS
Drupal 8 / Video Header / JavaScript / Twig / LESS
HTML5 / JavaScript / PHP / LESS
WordPress / JavaScript / PHP / SASS
HTML5 / JavaScript / CSS
WordPress / CSS Slideshow Animation / JavaScript / PHP / SASS
WordPress with long Slideshow/ JavaScript / PHP / SASS
WordPress / JavaScript / PHP / SASS
Drupal 8 / JavaScript / Twig / SASS
WordPress with video header / JavaScript / PHP / SASS
WordPress with video header / JavaScript / PHP / SASS
WordPress / CSS Slider Animation / JavaScript / PHP / SASS
WordPress with video header / JavaScript / PHP / SASS
WordPress Javascript Animation header / JavaScript / PHP / SASS
WordPress / JavaScript / PHP / SASS

WordPress / JavaScript / PHP / SASS